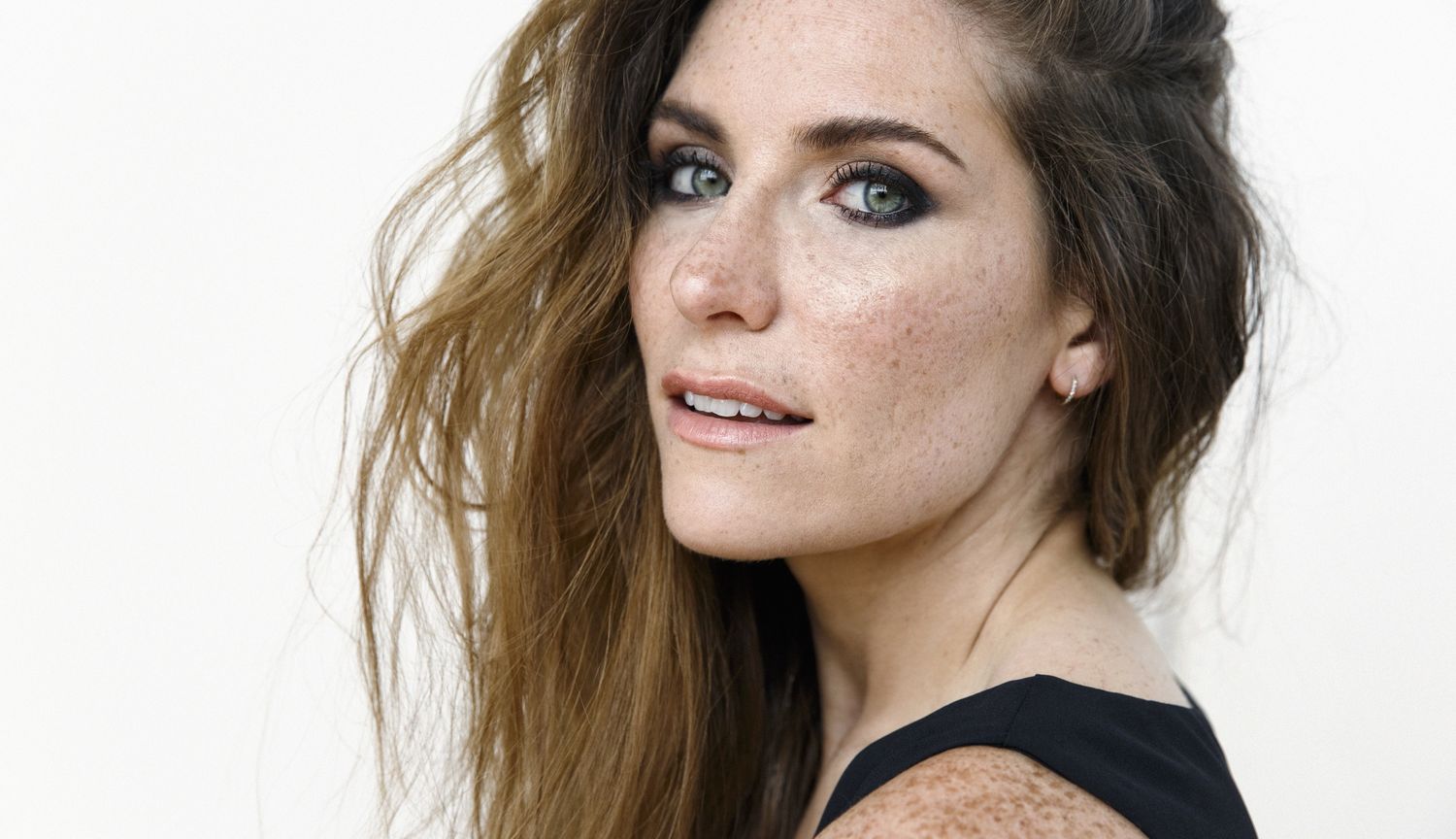 Sarah Levy of Schitt's Creek: descendent of Canadian comedy royalty
"Follow The Reader" is our series featuring unconventional leaders and trailblazers. This month: actress Sarah Levy, from TV's beloved Schitt's Creek.
Sarah Levy, a burgeoning star in her own right, has been following in her big brother's footsteps since she was a kid. Their most recent destination offered the experience of a lifetime.
The Canadian actress, who now resides in LA, is no stranger to show business. Her father, Eugene, is a comedic icon and her brother, Dan, has been gracing TV screens since 2006. For the last six years, all three have been starring together on the Emmy-nominated sitcom Schitt's Creek, which airs its final season in January 2020.
Sarah plays Twyla Sands, the unwaveringly sanguine diner waitress at the town's Café Tropical – a role that, upon meeting her, seems like a totally natural fit. (Girl is nice).
Twyla is Sarah's first major acting role, and though the craft is undoubtedly in her blood, her family's success hasn't proven intimidating. If anything, she's as earnest and grateful as ever, and "so hopeful for Canadian television because all of the comedy and talent is there." Preach.
Here's what else she had to say:
What was it like growing up in a showbiz family? Was there pressure to get into acting?
There was zero pressure, I will start off by saying that. I think my parents wanted us to do anything but show business, but that's just how the chips fell. I think both of us – from a very young age, being surrounded by all that creativity – it's impossible to avoid. We didn't even know it at the time, but we just innately wanted to act and make home movies and plays and all of those things.
What TV shows did you and Dan watch growing up?
The Simpsons was a big one; that was the show we were allowed to stay up to watch. 90210 in the later years – Jason Priestley still looks as wonderful as ever (dust off your poster, Sarah, because they're coming back!) – and a lot of TGIF (home to so many childhood classics).
Would those shows influence the videos you and Dan would make?
I don't think so. I'm three years younger than Daniel, so I would always take his lead on the things he wanted to create. He has been a creator for as long as I can remember, whether it be little movies or these skits that we'd put on for our parents. He always led the idea and I followed, and that was kind of our dynamic. I didn't think anything of it because he always had such amazing ideas – things that I could never even begin to come up with myself. So I think it was more from his bizarre mind. More than anything we were watching on television.
"We didn't even know it at the time, but we just innately wanted to act and make home movies and plays and all of those things."
Was working with your dad and brother on Schitt's Creek what you anticipated?
It was incredible. I don't know what I was even expecting when we started the first season, but it's something that I will not and have not taken for granted. It's been a dream to be able to spend three months with them every year for six years. I've learned so much. It's the first time I've worked with either of them before, so all of those things were such experiences. It's really, really bitter sweet – not only because it's the end of the show, but to know that we most likely will not be working together again.
Obviously you three have a natural rhythm, but the chemistry was so clear with the whole cast.
It was instant chemistry. Instant. I don't know how that happened, and how six, seven, eight people were chosen and all got along so well, but the fact that everyone is so unique and individual, and yet we all still love one another so much is crazy.
Did you have to audition for the role?
I did not. We shot a pilot presentation where I played a very different version of Twyla that was this kind of sad, lonely and nerdy girl. Nothing like the sunny, eternal optimist we know now. This other girl...you just felt so sorry for her. I never wanted anyone to feel sorry for her, though, because she doesn't feel sorry for herself.
Was it you who suggested that change?
It's interesting that it did take that turn, but I think they just went a different way with the character.
What were those last few days like on set?
Heavy. I think everyone was in denial just wanting to get through it. We all knew that it was going to be really difficult. It's kind of like the end of high school where you're in your last year and you know it's going to be sad, but you're just trying to enjoy it while it lasts. And then those last three days were...there were tears. And the last day was just...I hadn't even gotten to set yet and I was already tearing up. It was a really, really emotional time.
"I think entertainment is a universal thing. I think it's one of the few things that can bring people from all walks of life together. What you find funny could be the same thing that I find funny, and we may have very different backgrounds."
Does that make it difficult to perform comedically? Does that suck the comedy out of the situation?
Good question. I don't think anybody found that. The good thing is that a lot of the scenes were written with a bit of an emotional edge, so we were able to bring that to each one. The beauty of acting is that you kind of step out of yourself for a sec, so you forget what's actually happening, which is wonderful.
Schitt's was your first major role. Has your perspective of the industry evolved as a result?
I think both Daniel and I had a very solid understanding of what the entertainment industry was before we got into it. That being said, doing it yourself and making your own deals with your own managers and agents...the learning curve is so high. Something that I learned very recently is that, as far as we've come with diversity and females in entertainment, we're still so far behind. I say that because I shot a pilot in April that didn't get picked up called Patty's Auto and it was an all-female cast.
I was going to ask you about that. So it's not happening?
It's not happening and it was fantastic. It's a heartbreaker that it didn't go because it was an incredible cast and something that we've never seen on television before: women and cars and it was all based in reality – it was based on a real woman.
Was it ahead of its time?
The note that we got was that it didn't test well enough with men.
But are men the target audience??? (I'm on the verge of yelling on behalf of women everywhere).
[Looonng look before she keeps it PC] Hard to say. You'd think that would be taken into consideration, but it was at that moment – very, very recently – that I realized this is still very much a man's world and a man's game, and we have a lot of work to do. It's so disappointing. Hopefully they find another place for it eventually because it really deserves a chance.
Would you agree that, no matter the format, great entertainment has the power to unite people?
Very much so and I've learned that on this show. I think entertainment is a universal thing. I think it's one of the few things that can bring people from all walks of life together. What you find funny could be the same thing that I find funny, and we may have very different backgrounds. Like sports, it's the great equalizer. (Insert five-minute tangent on the NBA playoffs and Raptors' win).
" I don't know what it is...murder and thrills are right up my alley."
You obviously have comedy running through your veins. What are some of your favourite funny books?
Ooooh. I love David Sedaris. Do you know Amy Sedaris? It's her brother. He's a writer. My brother turned me on to him with a book called Dress Your Family in Corduroy and Denim and it's all stories of their childhood. These ridiculous, bizarre stories that are laugh-out-loud funny.
Another is by Jenny Mollen. Her latest book is Live Fast Die Hot and her first one was I Like You Just the Way I Am.Those are two of my favourites just to get a laugh.
But I will say that I'm reading Steve Martin's book right now, Born Standing Up, and it's so poignant and funny and well written and articulate. I was...not surprised, by any means, but his story is so much more interesting than I expected.
Do you gravitate towards comedic reads or do you actively seek out other genres? Any recommendations from other categories?
I love a good thriller. Like Gone Girl by Gillian Flynn or a murder mystery like Alice Sebold's The Lovely Bones. That was one of my favourite books. I don't know what it is...murder and thrills are right up my alley (laughs).
When I spoke with (costar) Annie Murphy, she mentioned that she would like to write a book one day. What about you? Any interest in exploring other creative outlets?
Oh my gosh...I don't know if I have anything to write about! I do write music – I'm a songwriter (she also sings) – so that's my writing outlet. Writing scripts doesn't interest me that much and I feel like, to be a writer, you have to just love it. Songs are the only thing that I love to sit down and write, so that's my other creative outlet.
What's next for you?
I'm heading back to LA. It's not fully confirmed yet, but there's another series that I'm shooting for Pop network, which is actually the same network as Schitt's Creek in the States. It's called Best Intentions, and it's coming up later in the summer or fall. It's by Adam Herz, who wrote American Pie, so it's very full circle for me... and my Dad, I'm sure.
This interview has been edited for length and clarity.