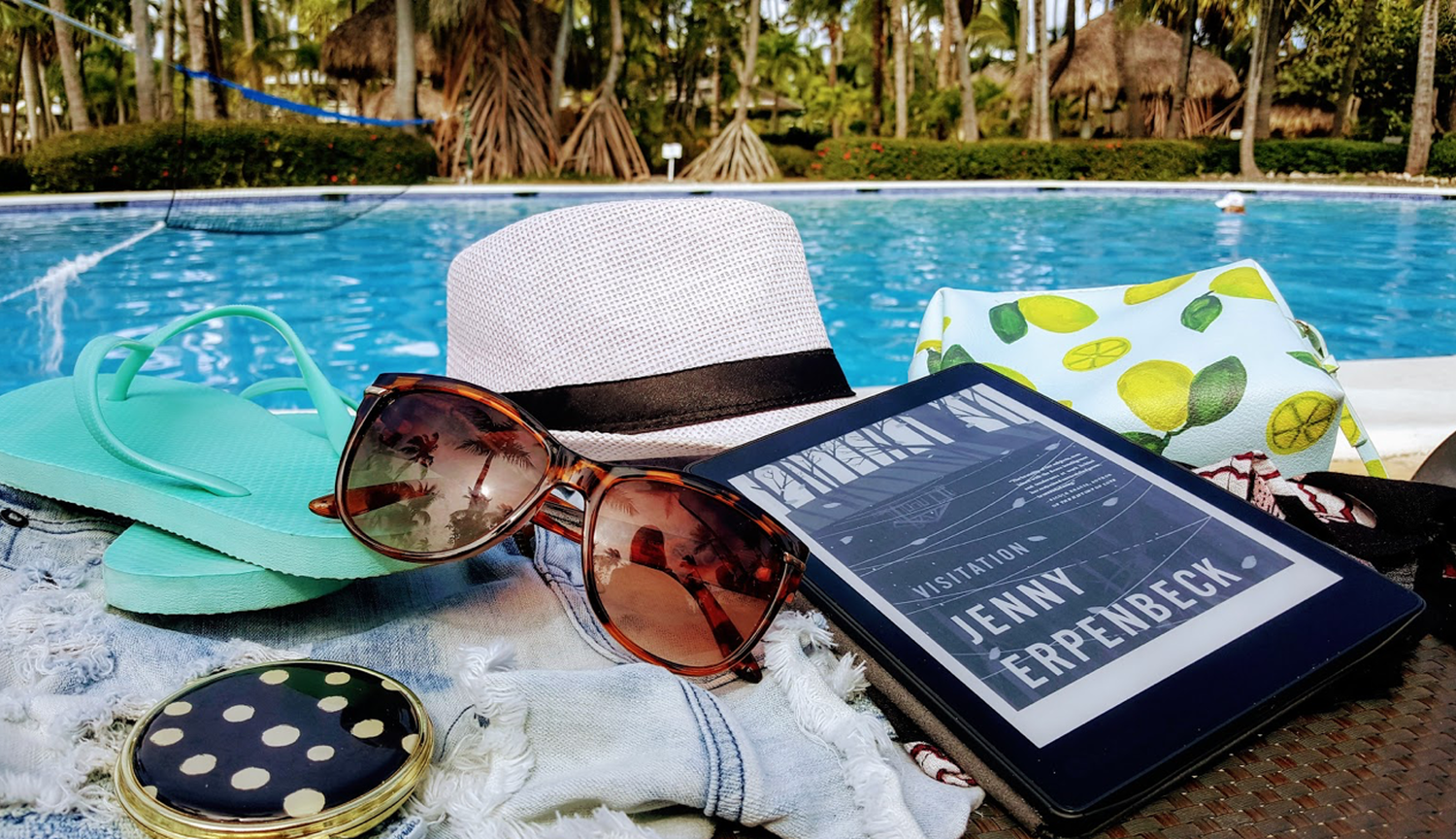 The art of reading on vacation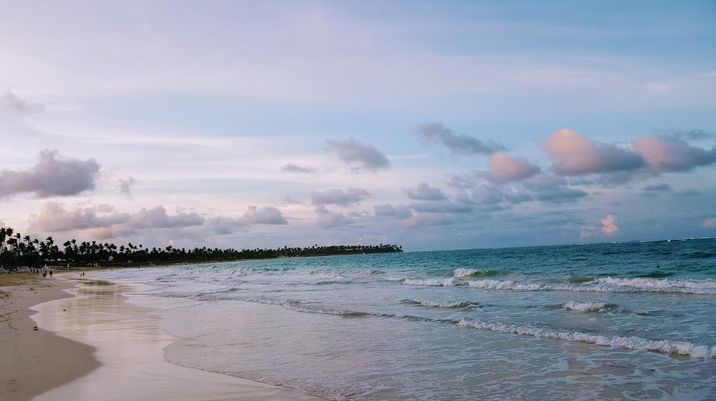 One of the best things about going on vacation is all the free time you can spend reading. When I told Kobo I was going to sunny Punta Cana last month, they challenged me to go digital for seven days straight.
Me, an island, and my eReader.
As a recovering print book enthusiast, I was a bit wary of this "seven day challenge" I'd been coerced into. I half expected that my paper withdrawal would lead to a manic pillaging of some poor vacationer's belongings in search of a paperback.
Don't get me wrong, I read eBooks, but not having a print book nearby for an entire week made me nervous.
For one thing, I am terrible at picking typical vacation books. For example, a couple of years ago I trekked the beaches and cobblestones of Ukraine with a 600-page historical novel about Thomas Cromwell and the beheading of Anne Boleyn. On another trip to Mexico, my pool-side reading included Miriam Toew's A Complicated Kindness, which is set in an oppressive Mennonite town and involves a chicken and an axe. The books I read to rest my brain seem to fit in the Hermione Granger version of "light reading" rather than everyone else's.
True to tradition, this time around my potential "to-be-read" pile was not for the faint of heart: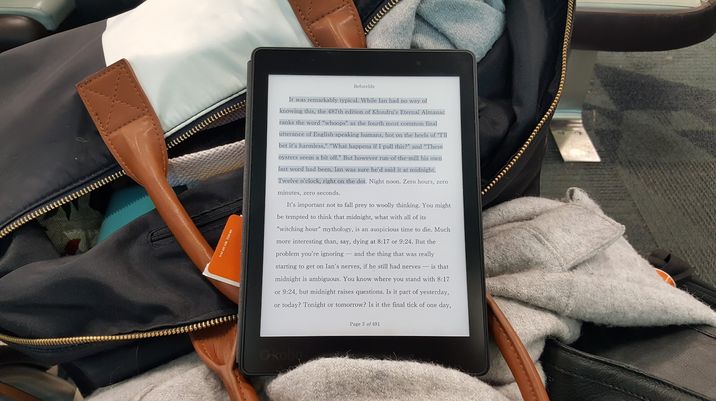 Day One
Packing was more successful than usual. With my Kobo there was no need to make tragic sundress sacrifices to make room in my luggage.
While waiting at the airport, I began two books at once (because decisions are hard). At first, I was in the mood for The Immortalists. After a few pages of following four siblings in New York on their way to a fortune teller, I found myself drawn to Beforelife. Ian Brown, our seemingly unremarkable protagonist, is hit by a train and washes up in the afterlife where no one believes in life on earth.
Immediately, I was snickering at Ian's post-mortem misadventures. I highlighted a few lines to come back to later and must say, I love the highlighter feature!
The four-hour flight passed by quickly and we arrived at our resort in Punta Cana just in time for a beautiful sunset walk on the beach. Surrounded by rosy skies, white sand, and azure water, I staked out my reading spot for the next day.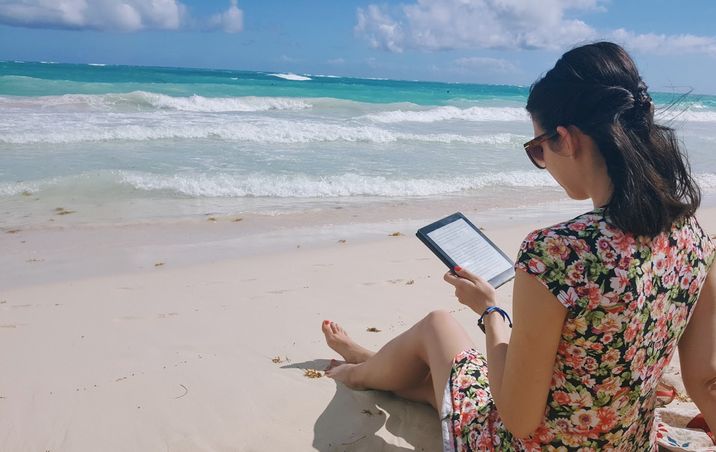 Day Two
As suspected, the rolling ocean waves and tall palm trees made the perfect backdrop to a day of reading. I found myself jumping back into The Immortalists. I don't know if it was the cervezas, the piña coladas, the Dominican air, or my Kobo, but I read for most of the morning.
However, there was one small problem. My boyfriend stole my Kobo for the rest of the day to read Waking Gods by Sylvain Neuvel.
Moral of the story: bring two Kobos.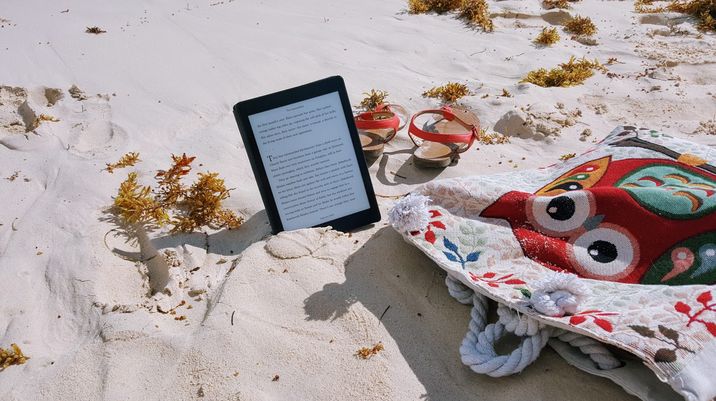 Day Three
On day three I was feeling refreshed and didn't miss the Toronto winter weather at all. I read a little more, and took frequent breaks to swim in the ocean. There is nothing like the ocean air to make you hungry for a book.
Midway through the day, we went parasailing. Besides the terrifying, gravity-defying, speedboat ride to the location, parasailing was actually quite peaceful. Within minutes, we were strapped to a parachute that lifted us several feet into the air above the island, where we lazily floated while our feet dangled over the edge above the water.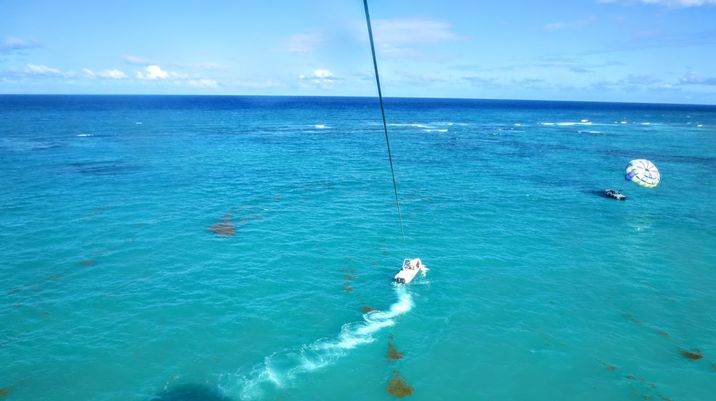 The view was picture perfect. Stretching below us was the uneven curve of coastline, the edge of green trees and ferns, and the dark and light patches of turquoise ocean. It was serene up there and we returned back down to land too soon.
With some more reading before dinner, I managed to finish another 50 pages of The Immortalists. I noticed that I didn't have any beach fatigue like I usually do with paperbacks. (If you're not familiar with beach fatigue, it is a big #booknerdproblem where you overheat in the sun and abandon your beach book to nap.)
Instead, I flew through the chapters easily and there was no urge to keep checking how far I was into the book. Maybe it was the absence of glare, or some other Kobo magic, but I got to simply enjoy reading.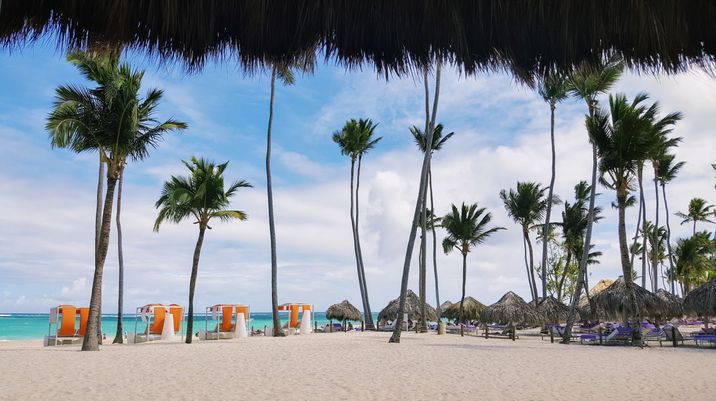 Day Four
During my morning walk, I noticed some John Grisham and David Baldacci paperbacks on reserved chaise lounges by the water. The urge was strong, but I resisted the lure of the paperback. (Although, I can't say what would have happened if a Brandon Sanderson or a Margaret Atwood book made an appearance.)
For the most part, I noticed I wasn't alone in my digital reading adventure. There were many readers at the resort, with a piña colada in one hand and an eReader in the other. I was blending in.
I meandered through several of my books until a romantic dinner for two at the resort's totally authentic Mediterranean fusion restaurant.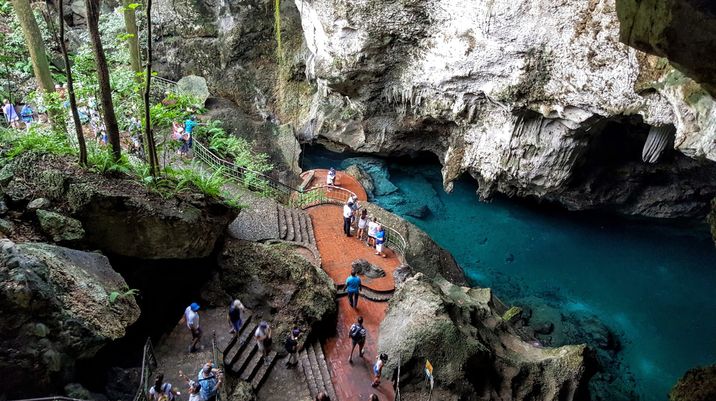 Day Five
Today was a busy day. We woke up at dawn to catch a bus to Santo Domingo, the capital of the Dominican Republic, for a cultural day tour. Being a big history nerd, I was way too excited to visit the historic sites of the city where the colony of Hispaniola was first established by Christopher Columbus in 1492.
We were due to be on the bus for a total of four hours so I was glad to have my Kobo with me. I usually take my time with fiction books like The Immortalists, but after reading a lot the day before, I was completely sucked in and wanted to keep reading.
Our first stop in Santo Domingo was a trio of caves at the Los Tres Ojos. The caves were nestled in deep ferns and mosses but were far from grim. A huge opening shone light into the cave structure, allowing three beautiful pools of water to be illuminated. I wanted to read among the stalagmites, but was told we were on a schedule.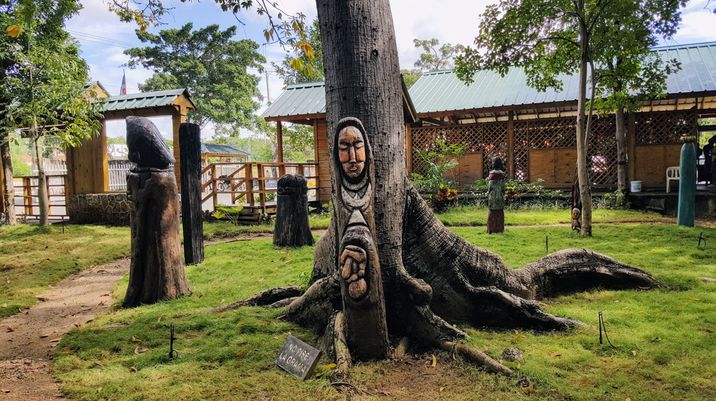 After the caves, we walked through the house of Christopher's son — Diego Columbus. Their book collection left a lot to be desired, in case you were wondering.
The rest of the day was spent eating at a lovely little restaurant, and exploring the city's old stone streets where colonial churches still stand among houses of classic Dominican poets, politicians and nobles.
Exhausted, we came back to the resort after dark, but my Kobo had a soft backlight which meant I was able to finish The Immortalists before the day was done. Oh, that ending!
Even though I'd had less time to read, it was still able to read for longer stretches of time without tiring myself out. I realized that I didn't miss my paperback copy.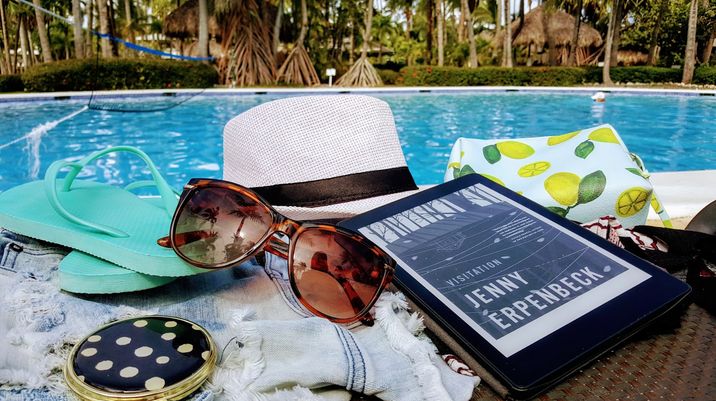 Day Six
Day six was the toughest in the challenge, mostly because I had to decide what to read next. I had started Beforelife on the plane, but I hadn't opened the other two yet.
I decided to start off with Visitation in the morning by the pool. It was much more literary. The author hinted at themes of transformation, of leaving, of loss; it was far too somber for my mood at the time.
After lunch, I decided to give The Luminaries a try. Although 700 pages in hardcover, it didn't feel like a chore while on my Kobo. With this one, I rediscovered the stats menu on the eReader.
I liked the "Length of Chapters" graph which showed me the rhythm of the book ahead and set the tone for the kind of read it was going to be. I made a good dent in the novel before we were forced inside by the rain, trading in lounging by the pool for cards and cigars.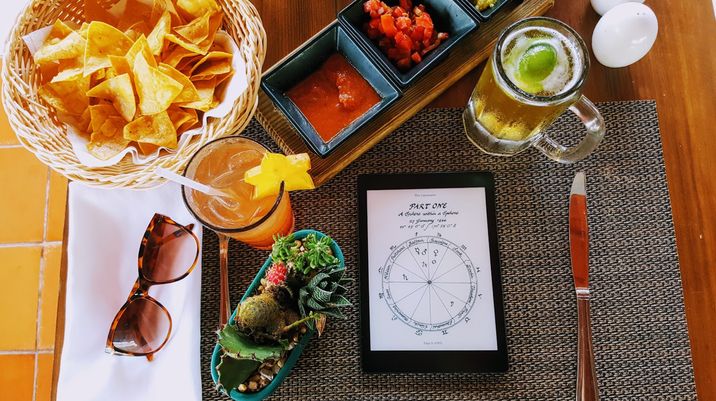 Day Seven
I made it to day seven! No paperback panic.
I felt triumphant.
Even a little smug as I watched one poor reader struggle for dominance with her paperback whose pages kept getting flipped by the wind and soaked by the occasional splash from the pool. I half considered dunking my waterproof Kobo Aura One into the water just to prove a point. Instead, I continued to read The Luminaries while sipping on some cosmos.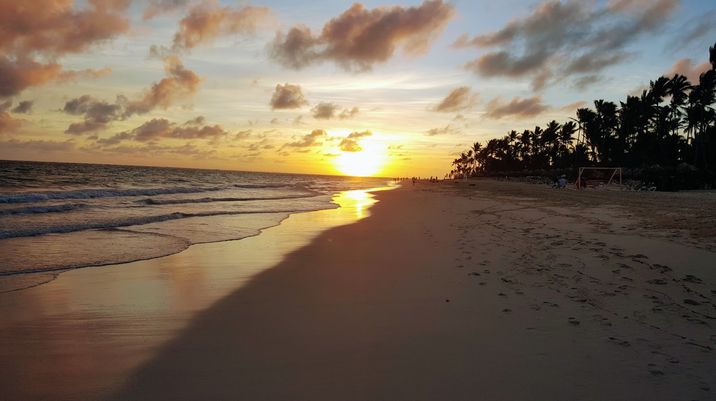 Reflections
In the end, I read a total 486 pages during the week, which is more than what I could usually manage. I also ended up saving myself a lot of trouble dragging heavy books around. I actually weighed it. The mix of hardcovers and trade paperbacks came in at five pounds! In comparison, my Kobo is just as light as Visitation — the shortest and smallest book in the pile.
Price-wise my Kobo would have saved me $50 if I didn't already own all the books in print; they came in at just over $100. Something to think about, especially since there is no guarantee that I'll want to keep every book I read.
One of my worries going into this was that reading exclusively eBooks would be uncomfortable, but the opposite was true. There was no drastic lifestyle change for me as a reader. If anything, because I was outside so much my Kobo made my regular reading experience totally transferrable to the outdoors. I wasn't fighting with lighting, sand or water. I didn't care about fragile paper pages.
The fact that I could switch from one book to another without carrying all four in my bag was amazing. I felt free to read anything anywhere and therefore I read more. Now if you'll excuse me, I'll be hiding among the pages of a new novel until spring.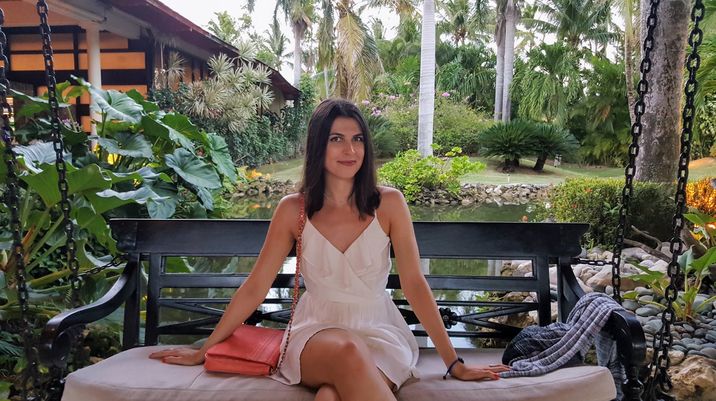 Books read:
1. The Immortalists: 346 pages
2. Beforelife: 80/547 pages
3. Visitation: 20/150 pages
4. The Luminaries: 40/700 pages
TOTAL: 486 pages in seven days
For more bookish content, check out Anna's blog and follow her on Instagram @lion_reads.