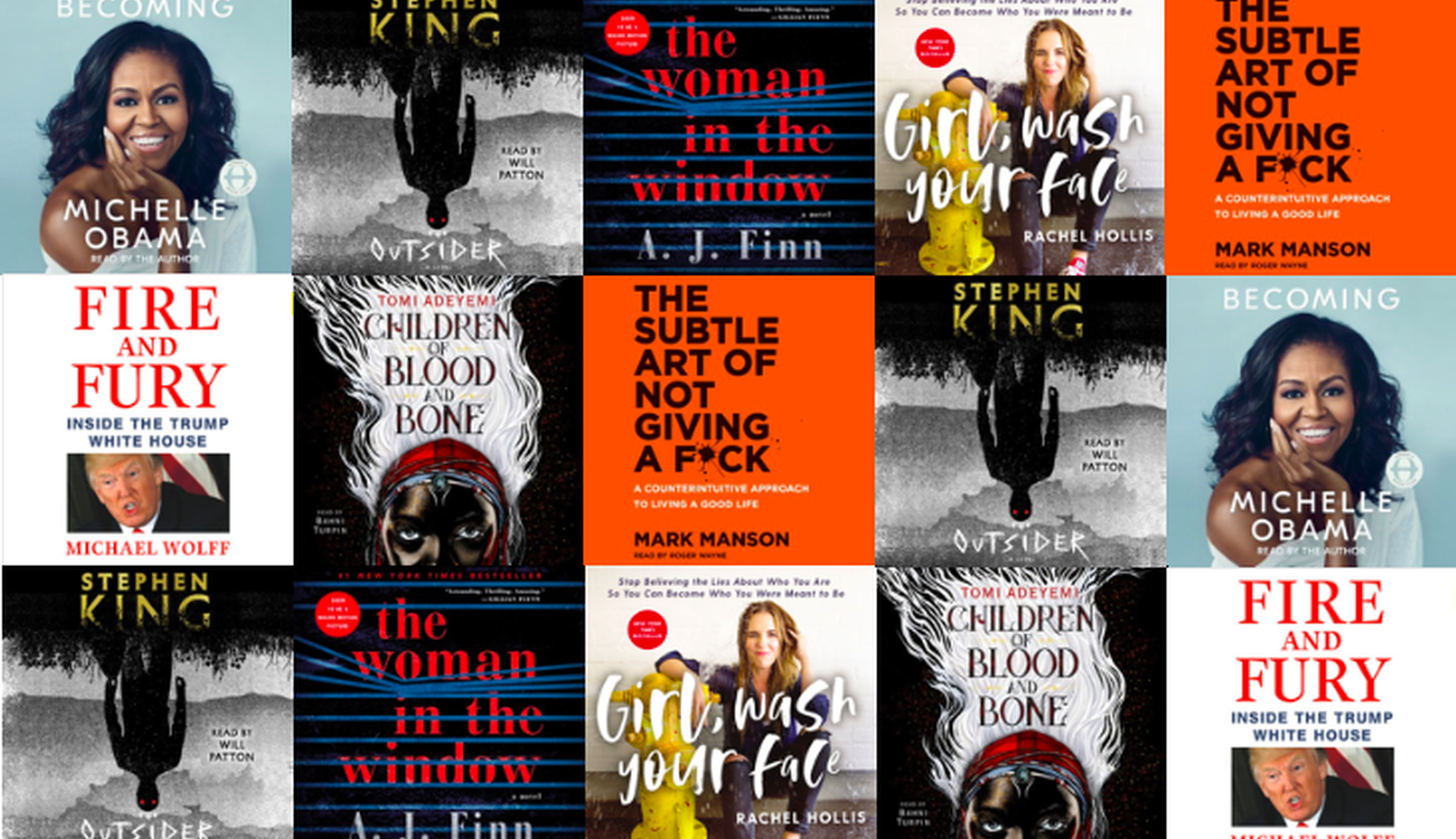 The best audiobooks of 2018
2018 was undoubtedly the year of the audiobook. The audiobook went from an eclectic art, consumed by book nerds, academics and athletes alike - to a mainstream media modality that everyone can listen to.
Since audiobooks have grown so quickly in popularity this year, a complete comprehensive list would include much nuance, context and varying degrees of whyness. But as fast as 2018 has flown, we don't have time to do a deep enough dive here. This is simply some of the best of the year, cut and dry (or as close as can be).

Here are seven of the best audiobooks of 2018, in no particular order:
Becoming by Michelle Obama [narrated by author]
Probably the most personal and poignant title on this list. This book was important for women and African-Americans worldwide. Michelle Obama gives us intimate insight into her history and the unique experiences that have shaped her into the icon she is today. Obama speaks with a canniness as a narrator that oozes over into the listening experience of her book. Michelle Obama's confidence is transferred over to her audience, as she inspires us to go about our becoming.
Girl, Wash Your Face by Rachel Hollis [narrated by author]
Rachel Hollis' composition on clarity is one of the year's most important pieces. In Girl, Wash Your Face, Hollis - carefully combs through the many common misconceptions that hinder the modern woman from reaching their full potential. As a narrator, Hollis' voice is bright and elastic. She has the ability to reach down into your anxieties and pull your lost courage back into the forefront of your consciousness. Really powerful stuff.
Children of the Blood and Bone by Tomi Adeyemi [narrated by Bahni Turpin]
A story this strong can only become a movie. Tomi Adeyemi's novel changed the fantasy genre in books akin to what Black Panther did in film. Adeyemi creates a vibrant world in which West Africa takes mainstage, but it's Bahni Turpin's voice that sets this audio title apart. Turpin's voice-over perfectly portrays the spirit of the characters in this world of black magic. Only the first of a trilogy, we can look forward to hearing Bahni Turpin read more of Adeyemi's world sooner than later.
The Outsider by Stephen King [narrated by Will Patton]
Reading Stephen King is watching a master at work and The Outsider is his latest masterpiece. Like most of King's classics The Outsider features the emotional battle between good and evil, and the darkness of a supernatural force. What makes The Outsider one of 2018's best is Will Patton's steadfast narration. It makes for one the best listens of the revamped audiobook era.
Fire and Fury by Michael Wolff [narrated by Holter Graham and Michael Wolff]
This audiobook lands here because of controversy and society's addiction to anything resembling reality TV. Fire and Fury is a spicy expose about Donald Trump's first nine months at the world's most famous address. Wolff and Graham's narrative does an excellent job of capturing the tone of the madness surrounding the United States' 45th President.
The Subtle Art of Not Giving a F*ck by Mark Manson [narrated by Roger Wayne]
Mark Manson might have the absolute best audiobook of the year, and that's based on functionality. The Subtle Art of Not Giving a F*ck goes against the self-help tones of obsessive improvement and impossible positivity. Manson's book trims all the fat by detaching from social frenzy and attacking the things that matter to us. Manson writes in a way the contemporary generation can appreciate and Roger Wayne's narration is like a stark look in the eye.
The Woman in the Window by A.J. Finn [narrated by Ann Marie Lee]
Another book that's become a movie, this title caught fire to the ears of listeners everywhere. Though it made our list, The Woman in the Window audiobook might still be underrated. Inspired by Alfred Hitchcock's Rear Window, Finn's story illustrates life through the lens of Anna Fox, a hermit who takes great pleasure in watching her neighbors. A.J. Finn's audiobook version is narrated by actress Ann Marie Lee.
Audiobooks had something for everyone in 2018. All sound considered, these books brought us joy, enlightenment, and excitement. In 2019, we look forward to audiobooks pervading our daily reading with even greater stories.
Want more audiobook recommendations?
For more similar blog content: The best books I read in 2018.