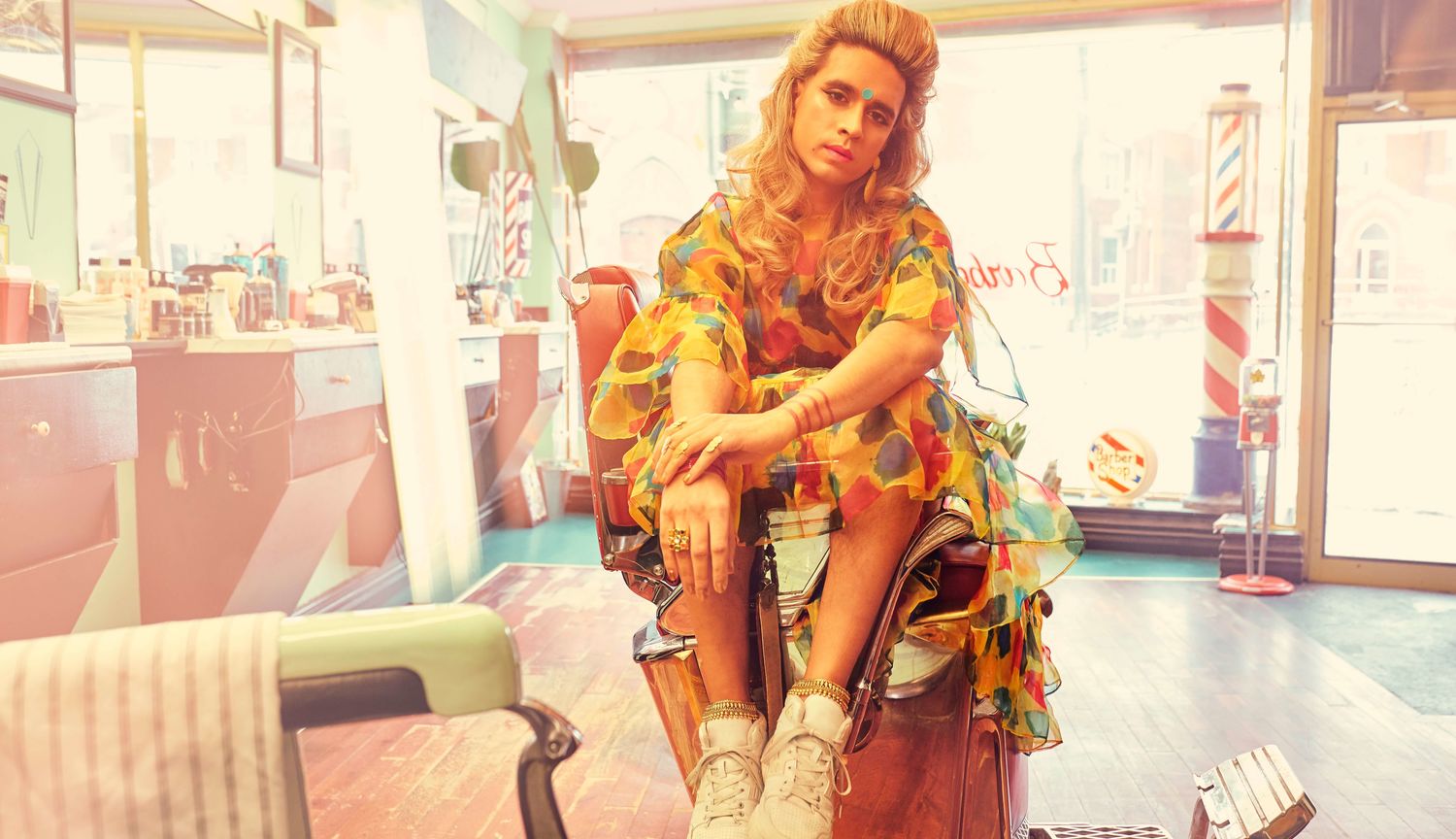 Vivek Shraya on her learning journey through art
Follow The Reader is our series featuring unconventional leaders and trailblazers, where we sit down with them and chat about books.
Vivek Shraya is a trans artist of colour with creativity in spades, crossing the boundaries of music, literature, visual art, theatre and film.
Her album Part‑Time Woman was nominated for the Polaris Music Prize, and her best-selling book I'm Afraid of Men was described by Vanity Fair as "cultural rocket fuel." She is also the founder of the award-winning publishing imprint VS. Books, which supports emerging BIPOC writers.
A seven-time Lambda Literary Award finalist, Vivek has been Pride Toronto Grand Marshal as well as a brand am­bas­sa­dor for MAC Cosmetics and Pantene. She is a director on the board of the Tegan and Sara Foundation, an Assistant Professor of Creative Writing at the University of Calgary, and is currently adapting her debut play, How To Fail As A Popstar, for television with the support of CBC.
Vivek started in music in the early 2000s, and although met with resistance, reinvented herself as an artist working with various art forms to create more opportunities to express herself creatively.
"I felt like I had a bit of a breakup with music, but I still needed to be creative – I still felt that creative drive. So, I ended up writing what would become a collection of short stories called God Loves Hair, which I self-published in 2010. I wasn't thinking about becoming a published writer – it was just sort of like an art project for me," says Vivek about her journey through art.
Vivek (pronounced like "Civic with V," she explains) has an impressive body of work, both past and present. We sat down to chat with her in celebration of Pride month and to hear about her favourite books.
***
As a cross-platform artist, tell us a bit about your journey and how you got to where you are now.
I started my artistic journey about 20 years ago, when I moved to Toronto in 2003 to pursue a music career. I found it to be quite challenging and continue to find it a very challenging industry to break into. And so, seven or eight years into my career as a musician I kept trying to make it, but it just didn't look like it was going to happen. The joke I always make is that I felt like my music stuck around just as long as the word "fetch" (a popular reference from the movie Mean Girls).
I felt like I had a bit of a breakup with music, but I still needed to be creative – I still felt that creative drive. I started thinking, "maybe I'm more than just a singer, maybe I'm more than a musician." I often credit that moment in my career where I started being very excited about art more broadly. Shortly thereafter, I made my first short film. And since then, I've continued to publish books and have also done photo projects.
What books have made a lasting impression on you?
The first one is The Bluest Eye by Toni Morrison, which I discovered during my undergrad at the University of Alberta through a popular writing course about Oprah. To my knowledge, it was the first course in my entire educational experience where I read a book by a person of colour, a woman of colour. It showed me what I was missing. I don't think I realized just how much I was missing until I read that book, in terms of reading a book that spoke to a racialized experience, even if it wasn't the same as my own experience.
Almost a decade later, somebody lent me a book called Stone Butch Blues by Leslie Feinberg, which was the first LGBTQ book I had been exposed to. And with both books, especially Stone Butch Blues, there were moments where I felt like the author was in my brain. It just felt so familiar, it felt like I was seeing my experience in a way that I hadn't before. And I found myself thinking a lot about what my life would have been like had I found that book when I was 16 years old, how it might have changed my life.
I think that both books planted the seed of the necessity of storytelling and wanting to share my own story and the specificity of both a racialized and queer experience.
[Editor's Note: Historically, trans and queer history and art tended to be informally documented; New York Public Library posted an article in 2020 explaining why it is difficult to find a copy of Stone Butch Blues.]
What have you been working on recently? What's next?
My most recent book came out in March, it's actually a published version of my play How to Fail as a Pop Star. It was really interesting to try and adapt a live experience into a book format. We ended up taking out all the theater cues and formatting it more like a collection of short stories. We included lyrics from the original songs and photography from the play.
My next book, People Change, will be published through Penguin Random House Canada in January. Three years ago I worked with them on a book called I'm Afraid of Men, and both books straddle the lines between nonfiction, memoir, philosophy and self-help. ◼
Vivekshraya.com is the digital archive for a living trans artist of colour, featuring her music, writing, visual art, theatrical and film works, from 2002 to present.
More books by Vivek Shraya:
Photograph by Matt Barnes