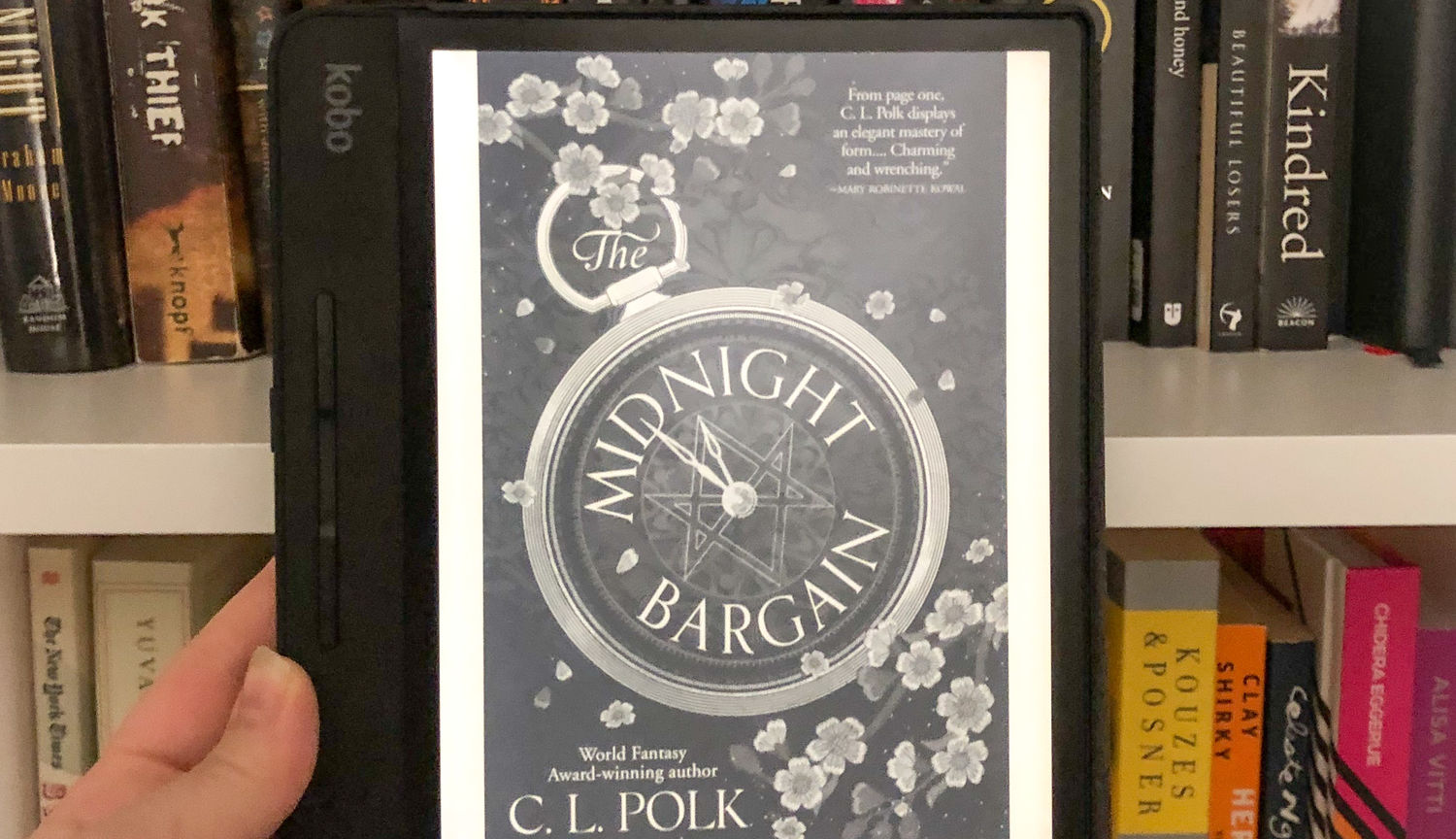 Locked out of libraries and bookstores, this booklover discovered eBooks and more
In this installment in our #FreshlyDigital series, the story of a bookstore-browsing page-turning booklover who became a digital reader

Victoria Cacioppo is a busy integrated communications professional who can juggle tasks, objectives, clients and campaigns like a circus performer. But all that high-wire tossing and catching was taking a toll on a favourite part of the day—reading time.
Enter the pandemic and restricted access to her happy places, such as bookstores and libraries, plus an attention span altered by work-from-home solitude. The combination of all of that plus work-work-work conspired to push her in the direction of what used to be anathema:
The digital world.
Here's how a print-lover and book collector added technology to her reading life:

What kind of a reader are you? When do you normally find time for books—and what do you read?
I've always been an avid reader. As kids, my sisters and I had a 'book closet' instead of a toy chest. The biggest fights we had growing up were always over books—especially when a new one got released—and the three of us would argue over who got to read it first or be forced to share by our parents, who (understandably) refused to purchase three copies of every book we coveted.
As an adult working in the city, the only time I'd really get a chance to read was on vacation or during my commute into work. That, or late at night when I'd stay up until who-knows-when to sneak in the latest release of a favourite series.
Because of my hectic schedule, when I read it's to escape. So naturally, most of what I read is fiction.
What made you try digital formats for books?
I am a die-hard print reader, and probably always would have been but the pandemic significantly changed my reading habits. Pre-COVID I had never used an eReader or listened to audiobooks in my life. Now I've done it all!

I started listening to audiobooks to accompany my 'allocated outdoor walks' during the pandemic. Living alone in the city, they were a great companion and made it feel like I was walking with a friend. After realizing how many books I 'read' during my walks, my eyes were opened to the multitasking benefits of audiobooks.

"Because of my hectic schedule, when I read it's to escape. So naturally, most of what I read is fiction."
I recently started digital reading after a friend's recommendation and it quickly became a part of my daily life. In fact, the ease and simplicity of my Kobo Forma has converted even the most die-hard print readers in my family.
What did you make of your first eReader experience? Any surprises?
My first experience with my Kobo eReader surpassed all expectations. I thought after staring at a screen all day my eyes would inevitably tire and refuse to read a digital book, but I was wrong. The soft lighting and simple interface made it the perfect addition to wind-down before bed.
There is a lot I like about my Kobo reader, but the part that is by far the most alluring (and also the most dangerous) is the number of pages displayed in a chapter. I can't tell you how many nights I'd get to a new chapter and think "I should stop, but it's only 11 pages. I can fit in one more chapter… I'll stop after this one," only to find that I've stayed up past 1:00 a.m. because that one chapter has naturally become seven.
"Living alone in the city, [audiobooks] were a great companion and made it feel like I was walking with a friend."
I was also surprised by the Kobo Plus offering. As someone who spends a LOT of money on books, the savings of paying a flat fee per month for an unlimited number of books at your disposal is just too good to pass up! At first glance, the selection can seem a little limited or filled with unfamiliar options, but there are a lot of hidden gems to be found.

Do you move between print and eBooks now? Which feels more natural?
Both feel natural to me now, though I find that once I've read and liked a book, I'll sometimes buy the print version (if read on digital) to keep for sentimental reasons.
Describe yourself: library aficionado, bookstore junkie, or online book shopper?
All of the above. To me, libraries and bookstores are sacred, so they'll always hold a special place in my heart. I try to make an active effort to seek them out and support them. That said, without access to them during the pandemic, I ended up ordering a lot of my books online. It's just so convenient!
The way I see it, libraries & bookstores are weekend outings. Places you can get lost in and spend hours browsing for new additions to your bookshelf. Online orders are for during the week when you need to cross it off your 'to do' list—remembering to order a new commute book or the latest book club read so you have it quickly in-hand. And of course eBooks are instantly available.
"Libraries and bookstores are sacred, so they'll always hold a special place in my heart."
Do you read books differently now? Do you choose different things to read?

I'm not proud to admit it, but I get a bit self-conscious when reading your typical 'beach reads' or YA novels. They're my guilty pleasure—and one of the few things getting me through the pandemic—but as a grown 30-something woman I often felt judged when I was reading them on my commute or out in public. The beautiful thing about digital reading is that it literally prevents people from judging a book by its cover. Am I reading work PDFs? The complete works of William Shakespeare? The latest NYT bestseller? THEY'LL NEVER KNOW. So needless to say, I'm a big fan.
What are you currently reading?
I just finished The Midnight Bargain by C.L. Polk and am about to start The Song of Achilles by Madeline Miller.
What's at the top of your to-read list now?
There are so many, and the list is only growing:
How do you discover new things to read?
More often than not it's based on friend recommendations. I'm lucky to have brilliant friends that love to read as much as I do (perhaps more) and always have a good recommendation, or twelve, up their sleeve.
When that fails, I look for a popular series. As a quick reader, a good series removes all pressure from stressing on what to read next! ◼