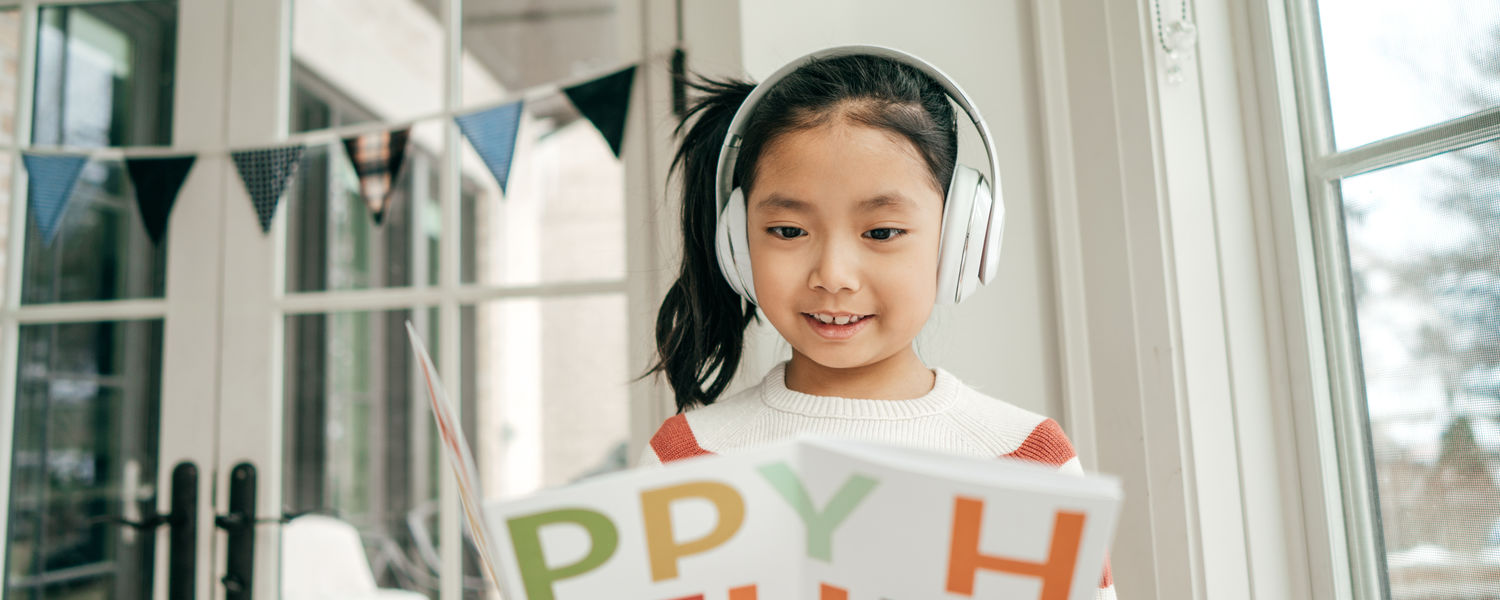 Audiobooks open up a world of reading for children with print disabilities
Rakuten Kobo and Center for Equitable Library Access (CELA) partner to increase the availability of audiobooks for children with print disabilities, with support from Dyslexia Canada
Dyslexia, a common print disability, is thought to impact up to 15 per cent of the population and two to three children in every Canadian classroom
Toronto - March 9, 2020 — Early in their education, children reach a critical stage, typically around grade three, when they stop "learning to read" and transition to "reading to learn". In other words, reading is no longer the singular goal, and instead becomes a tool in a child's academic arsenal.
Some children struggle with that transition. Dyslexia Canada estimates two to three students in every Canadian classroom have a print disability, such as dyslexia, which can disrupt the shift to reading to learn. The result is that children with print disabilities can often fall behind their peers academically, and can begin to feel stigmatized.
Technology removing barriers to reading
Technologies such as audiobooks are removing barriers to reading for children with print disabilities, allowing them to easily access and enjoy books that would otherwise only be available in print. What's more, studies have shown that for all children, audiobooks can improve reading accuracy by 52 per cent and comprehension by 76 per cent.* However, in Canada, audiobooks targeted to grades three to six, the grades critical for reading becoming integral to learning, are scarce.
In an effort to alleviate this, Rakuten Kobo and CELA have partnered to more than double the number of audiobooks offered to children with print disabilities through the national Forest of Reading program. Children in grades three to six can now choose from nearly 40 fiction and non-fiction titles, including nine titles in French.

"Even recently, a reading disability often meant that a child missed the chance to build a love of reading," said Michael Tamblyn, CEO and President of Rakuten Kobo. "The role that a little technology at the right time can play in removing barriers to something as vital as reading is transformative. We're thrilled to be partnering in this venture with CELA, whose mission is closely tied to our own, and to be working together with Dyslexia Canada, to ensure that all children with print disabilities can participate in the Forest of Reading program. We hope this effort raises awareness for the importance of accessible formats like audiobooks, as part of our ongoing efforts to remove barriers to reading."
"Forest of Reading gets kids excited about exploring and discussing books and that's what leads to a love of reading. CELA's goal is to make sure that no matter how kids read, they can fully participate in the Forest of Reading program, and have fun with their classmates," said Rina Hadziev, Executive Director of CELA. "CELA offers Canadian residents with print disabilities more than 700,000 titles in a variety of accessible formats, for free. We know how important choice is for our patrons and we are grateful for Kobo's important contribution to our children's collection."
Choice is a key component of childhood learning
Research shows that kids who are offered choices in reading materials are more engaged, more committed to reading, and more likely to increase their overall reading effort. A 2004 analysis by psychologists J. T. Guthrie and N. M. Humenick,** found that the two most powerful instructional design factors for improving reading motivation and comprehension in students were access to many books and personal choice of what to read. Currently, only one in seven books are produced in accessible formats; CELA works with partners, publishers and producers to close that gap.
A study from the University of California Berkeley*** that used a functional MRI to scan the brains of people engaging with an audiobook versus a print book showed virtually identical brain activity in both. This helps to demystify the notion that listening is not reading, and that people who choose to utilize an audiobook rather than print, or who might be required to use audio due to a print disability, experience and engage with that book in the same way as their peers.
Dyslexia and print disabilities are more common than people realize
Dyslexia, a common print disability, is thought to impact up to 15 per cent of the population and approximately two to three children in classrooms around the country. Contrary to popular belief, dyslexia is more than seeing letters backwards. It is a specific learning disability that is neurobiological in origin, and characterized by difficulties with accurate and/or fluent word recognition, as well as poor spelling and decoding abilities. Although it cannot be cured, if identified early and with proper remediation, support and tools, children with dyslexia can learn to read, write and spell successfully.
"Audiobooks can be a powerful tool for children with dyslexia," said Christine Staley, Executive Director of Dyslexia Canada. "From an intervention perspective, proper integration of audiobooks in classrooms and homes can help children with dyslexia by bridging the gap between reading level and comprehension as well as increase their overall reading confidence. If a child is still learning to decode—the ability to sound out words you don't know—they will not be able to necessarily read the 'latest' books and participate in conversations with their peers about them. This can induce a feeling of exclusion, which audiobooks can help alleviate—a key component of this story."
Learn more about the titles included the English Forest of Reading program here and French program here.
*Audio Publishers Association
**Guthrie, J. T., & Humenick, N. M. (2004). Motivating students to read: Evidence for classroom practices that increase motivation and achievement.
***Anwar, Y. (2019). A map of the brain can tell what you're reading about.
-30-
About Rakuten Kobo Inc.
Rakuten Kobo Inc. is the world's only dedicated digital bookseller. Owned by Tokyo-based Rakuten and headquartered in Toronto, Rakuten Kobo enables more than 38 million readers worldwide to read anytime, anywhere, and on any device. With a mission to make reading lives better, Rakuten Kobo connects readers to stories using thoughtful and personalized curation of eBooks and audiobooks, and the best dedicated devices and apps for reading. With the singular focus of making reading lives the best they can be, Kobo's open platform allows people to fit reading into more moments in their busy lives.
About the Center for Equitable Library Access (CELA)
The Centre for Equitable Library Access, CELA, is Canada's largest accessible reading service, providing books and other materials to Canadians with print disabilities in the formats of their choice. A national not-for-profit organization, CELA is fully funded to serve 97% of the estimated 3 million Canadians with print disabilities in partnership with member public libraries and we offer a digital-only service to those in non-funded areas. CELA provides access to 700,000 professionally produced titles to provide people with print disabilities with a quality library experience.
About Dyslexia Canada
Dyslexia Canada is committed to ensuring that every child in Canada with dyslexia gets a fair and equitable education.
Dyslexia Canada was formed in 2016 as a way to ensure that there was a national voice and forum to advocate for all Canadian children with dyslexia. By partnering with professional organizations, experts and advocates, Dyslexia Canada strives to drive systemic change by engaging and educating the public and policy makers to recognize and remediate dyslexia.
Media Contact
Jamie Gillingham
Senior Manager
Global Communications
Rakuten Kobo
jamie.gillingham@rakuten.com
1 416 460 1668