GTDC HONOURS KOBO WITH 'RISING STAR' AWARD AT EMEA SUMMIT
Barcelona, June 12, 2014 – Kobo, a global leader in eReading, today announced it has been recognized at the Global Technology Distribution Council's EMEA conference with a 'Rising Star' award for top sales in the European region. As a result of rapid sales as a new vendor, Kobo received a gold award in the €25 - €50 million revenue category.

GTDC drives more than $130 billion in annual worldwide sales of products, services and solutions. Each year the council selects its top members to be recognized for unprecedented sales growth. The results are tracked by CONTEXT Sales Watch data between April 2013 and March 2014.

"As a new member to the GTDC network it's an honour to be recognized for our exceptional sales results over the last year," said Jean-Marc Dupuis, Managing Director, EMEA, Kobo. "GTDC is a fantastic consortium in the technology sales industry and we're thrilled to be part of it. Digital reading is constantly evolving and we're fortunate to have GTDC address the fast-changing marketplace needs of companies like Kobo."

"Kobo joined the GTDC network at the beginning of 2013 and their products immediately performed in the European marketplace" said Tim Curran, CEO, Global Technology Distribution Council. "Their sales momentum continued throughout the year due to their quality line up of eReaders and tablets and that's why GTDC is thrilled to award Kobo with a gold ranking 'Rising Star' award."

Kobo's award-winning devices have access to more than 4 million eBooks and magazines, and can be found at top retailers across Europe.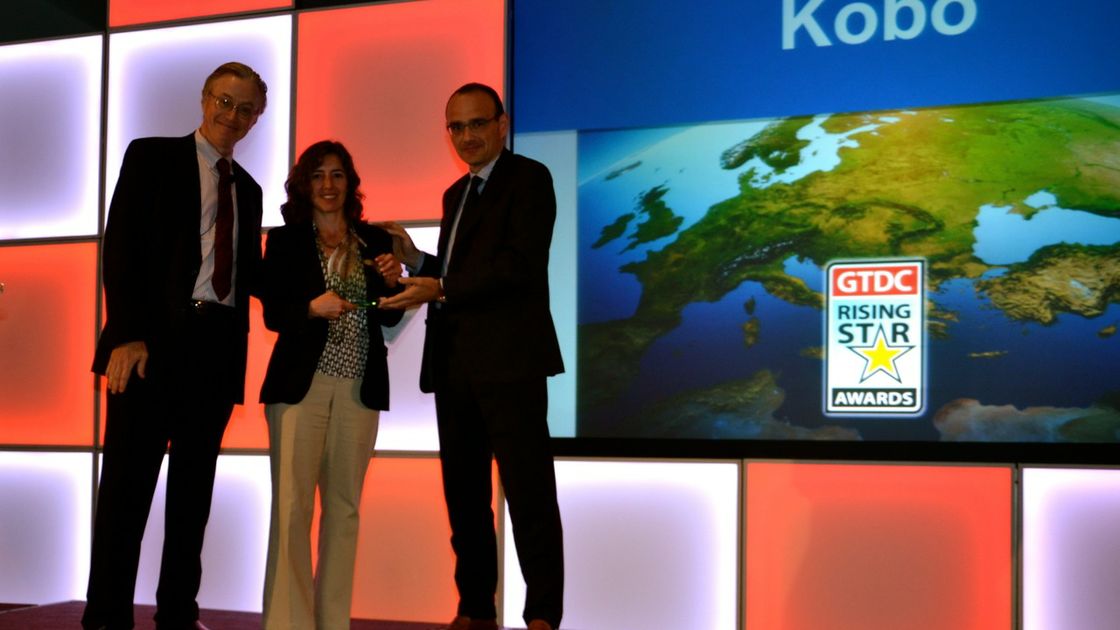 About Kobo Inc.

Kobo Inc. is one of the world's fastest-growing eReading services offering more than 4 million eBooks and magazines to millions of customers in 190 countries. Believing that consumers should have the freedom to read any book on any device, Kobo provides consumers with a choice when reading. Kobo offers an eReader for everyone with a wide variety of E Ink eReaders and Google-Certified Android tablets to suit any Reader's style including the award-winning Kobo Touch™, Kobo Mini, Kobo Glo, Kobo Aura, Kobo Aura HD, Kobo Arc, Kobo Arc 7, Kobo Arc 7HD, and Kobo Arc 10HD. Along with the company's free top-ranking eReading apps for Apple®, BlackBerry®, Android®, and Windows®, Kobo ensures the next great read is just a page-turn away. Headquartered in Toronto and owned by Tokyo-based Rakuten, Kobo produces eReaders and tablets that can be found in major retail chains around the world. For more information, visit www.kobo.com.

About GTDC
The Global Technology Distribution Council (GTDC) is a worldwide industry association dedicated to defining and promoting the role of wholesale distribution in a successful and healthy information technology channel. The Council is comprised of the computer industry's top wholesale distributors dedicated to serving "the channel," a network of skilled value-added resellers and retail stores focused on providing hardware, software, and services to businesses and consumers around the globe. GTDC members include AB S.A (WSE: ABPL), ABC Data, ALSO (SIX: ALSN), Arrow Electronics (NYSE: ARW), Avnet (NYSE: AVT), Computer Gross Italia, Copaco N.V., DCC SerCom, D&H Distributing, Esprinet (PRT.MI), Ingram Micro (NYSE: IM), Intcomex, Logicom (CSE:LOG), Officer Distribuidora, Redington (BSE: REDI), SiS Technologies (HKSE: 0529), ScanSource (NASDAQ:SCSC), SYNNEX (NYSE: SNX), Tech Data (NASDAQ: TECD), Westcoast LTD and Westcon Group.

Rising Star Awards Methodology
To be eligible for a Rising Star award, vendors must have sold corresponding products through GTDC members for at least one year. Selections for Gold, Silver and Bronze winners in each revenue category are based on CONTEXT SalesWatch data from April 2013 – March 2014.

About CONTEXT
The CONTEXT Distribution Panel records over one billion euros a week in technology product sales to resellers serving businesses and consumers across Europe, based on sales reports from over 80 of the region's leading national and international broad-line and specialist distributors. This Panel benefits from exclusive access to EMEA data from the Global Technology Distribution Council (GTDC), an international consortium of the IT industry's leading wholesale distributors. This, coupled with the Panel's strong local representation, provides the most comprehensive and accurate reporting of ICT channel sales out data in Europe.
###
For more information please contact:
Mallory Haughey
PR Manager, Kobo Inc.
mhaughey@kobo.com
+33 6 83 18 66 27

Anita Lussenburg
GTDC, Events Manager, EMEA
alussenburg@gtdc.eu
+31 6 21 585878