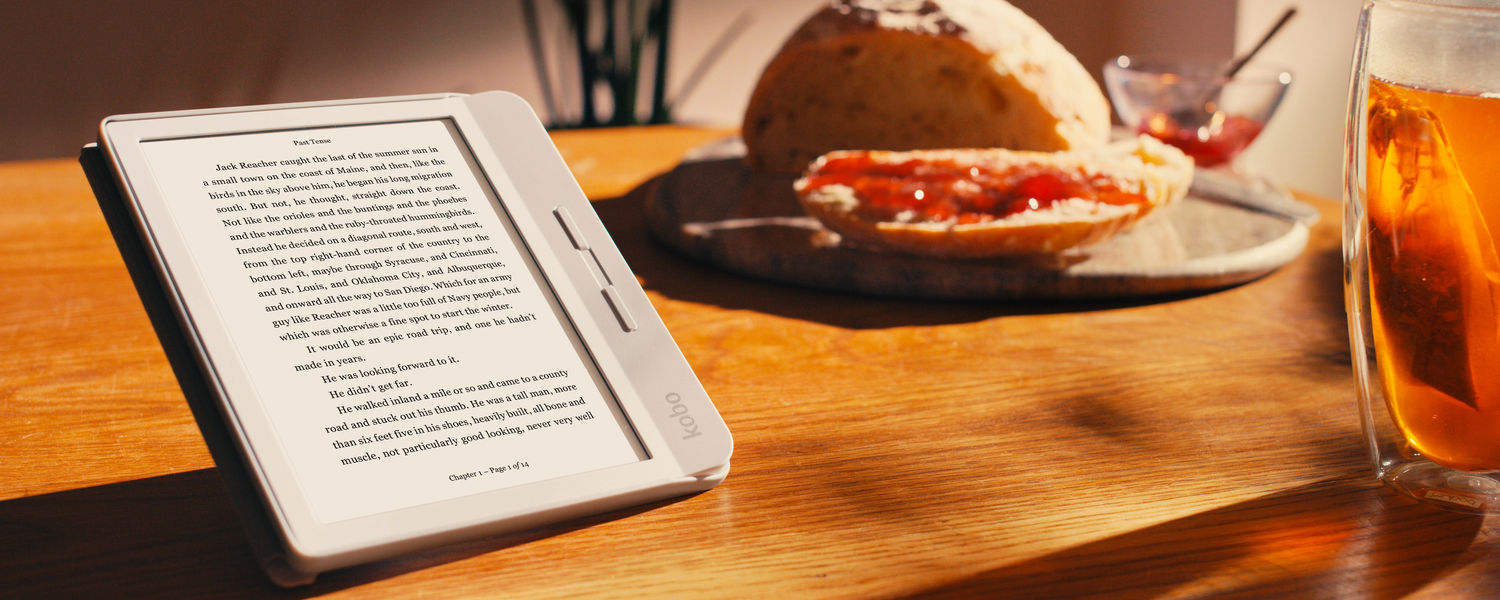 Rakuten Kobo unveils the Kobo Libra H2O: A lightweight, waterproof, 7" eReader with a fresh, modern design
Kobo celebrates newest device by partnering with Toronto-based Annex Hotel to launch a Reader in Residence program
Toronto, ON – September 4, 2019 – Combining a decade of experience, the latest in innovative digital reading technology, and a readers-first approach, Rakuten Kobo has struck the perfect balance with the Kobo Libra H2O. Designed and built to make reading lives better, the newest device provides the fully customizable experience readers need, with the modern design they want.
With the Kobo Libra H2O, Kobo's team of expert product designers and software developers have married the features readers love—ergonomic one-handed page-turn buttons, waterproofing technology, ComfortLight PRO, a 7" HD Carta E Ink glare-free screen, and convertible SleepCovers—with an elevated aesthetic, enabling readers to choose the device and accessory that best reflects them. The Kobo Libra H2O is available in classic black and white, with four SleepCover options in black, grey, rose and aqua.
"Each time we create a new device, we look to make the act of reading that little bit better. That's a mission worth our very best effort," said Michael Tamblyn, CEO, Rakuten Kobo. "So many of our customers are drawn to eBooks for the convenience and portability. With the Kobo Libra H2O, we designed a seamless digital reading experience that keeps your whole reading life with you, wrapped in a beautiful, modern design."
The Kobo Libra H2O, with enough storage for 6,000 books and weighing just 192 grams, will retail for $199.99 CAD at www.kobo.com and select retailers. Pre-orders begin in select countries on September 10 and the device will be available in stores and online as of September 17 in Canada, the US, the UK, Italy, the Netherlands, France, Japan, Spain, Portugal, Australia, New Zealand, Turkey, Belgium, Switzerland, Norway, Finland, Denmark, Sweden, Hong Kong and Taiwan.
Take a Reading Vacation: Reader in Residence
To celebrate the launch of the Kobo Libra H2O, Rakuten Kobo has partnered with the Annex Hotel, a boutique hotel in the heart of Toronto with a vested interest in supporting the arts, to launch a Reader in Residence program.
"The convenience of being able to take lots of books on vacation without the bulk and weight is one of the main reasons why people start to read digitally; even the most committed print loyalist will take an eReader rather than books on a holiday," said Tamblyn. "In fact, 71 per cent of readers choose digital for vacation reading. Call us biased, but we believe one of the reasons why vacations are so relaxing is actually because we take the time to really get into books, to detach from everyday stresses and escape into another world. In that sense, reading is the vacation.
"That insight, combined with the current trend toward taking micro-vacations of a few days rather than weeks, led us to the idea of the "reading vacation." Get the most out of whatever time you have off by diving into books, and if you're really stressed, consider booking yourself a great weekend away."
Travel + Leisure magazine reported that 57 per cent of Americans did not take a vacation longer than four nights last year; and 69 per cent of Gen Xers and 60 per cent of Boomers said they had taken at least one micro vacation in 2018.* The 2018 Expedia Vacation Deprivation® report revealed that over half of Canadians (55 per cent) use their vacation days by incorporating some element of a "quick trip" into their plans throughout the year, such as a long weekend or a 1-2 day micro-break.
"We're beyond pleased to be collaborating with Kobo to provide our guests with an extra way to relax" said Jessika Dufour, Marketing Manager at the Annex. "It's a small touch that goes a long way in providing a personal, authentic, and thoughtful stay to our guests."
The Reader in Residence program includes the permanent installation of Kobo Libra H2O devices in all Annex Hotel rooms, allowing guests to take a "reading vacation"—to relax and destress using the restorative powers of a great read. Research shows that reading, much like vacationing, can help relieve stress and combat mental decline. During times when a classic vacation may not be an option, or when a single vacation simply isn't enough, a great read can be the answer to unplugging.
"Reading has astounding cognitive benefits in relation to relaxation," said Dr. David Lewis, founder of Mindlab International, an independent research consultancy based at the University of Sussex. "According to my research, just six minutes of reading can reduce stress levels by a staggering 60 per cent. Additionally, we found that reading relaxes 77 per cent of people, while 39 per cent of participants in my studies feel that they are transported from their everyday worries while reading, and 46 per cent consider the act of reading to be an uplifting experience."
Kobo's own 2019 research shows that 93 per cent of eReader users choose to read because it helps them relax and escape the stresses of everyday life. What's more, 45 per cent of users feel that they read more deeply and are more greatly absorbed by a book when reading on an eReader. With the launch of Kobo Libra H2O and the Reader in Residence program, Kobo encourages readers to take a "reading vacation" and take advantage of the health benefits that come with a good book.

Enhanced eBook Navigation: "Reading to Understand"
In addition to the launch of the Kobo Libra H2O, Rakuten Kobo is introducing an updated reading interface with improved eBook navigation across all devices. The enhanced navigation provides users with increased awareness of where they are in an eBook, allowing readers to seamlessly skim an entire book, jump to a new location, or go back to their original page, all without fear of losing their place.
"This enhanced eBook navigation is really about giving our users a reading experience that surpasses paper," said Tamblyn. "Through customer surveys, interviews, and by looking at reading data, we could see that digital is perfect for reading to escape, but when it comes to reading to understand—things like reference manuals, non-fiction titles, or books where you would want to skip back and forth—digital can seem difficult to navigate, to know exactly where you are in a book and where you want to go. Our new navigation makes the geography of a book very clear and intuitive."
New features include:
Enhanced eBook scrubber: The scrubber has been updated to represent the entire eBook rather than a single chapter. Easily flip back and forth through your eBook without fear of losing your spot—your previous page is noted by a black breadcrumb for easy return.
Page previews: A preview of pages viewed using the eBook scrubber will now appear as you skim. Use the preview page to quickly scan other parts of the book, and easily navigate to that page by tapping the preview window.
Updated headers and footers: Headers and footers display chapter and book progress simultaneously, so you know where you are in your eBook at all times.
Progress bar: A thin black bar at the bottom of the eReader will now help you understand at-a-glance where you are in your eBook.
Improved in-book menu: Swipe up from the bottom of the page to open the new in-book menu. For better location awareness in your eBook, the scrubber now appears as part of the menu. Annotations (notes, highlights and bookmarks) are easier to access, by tapping the annotations icon at the bottom of the screen.
Get More Familiar with the Kobo Libra H2O
A whole new look
Built with modern design top-of-mind, the Kobo Libra H2O is available in black and, back by popular demand, white. The device SleepCovers come in an expanded range of colours, including black, grey, rose and aqua.
With a 7" Carta E Ink HD touchscreen and a 1680 x 1264 300 ppi resolution, the Kobo Libra H2O offers a high definition reading experience. The device itself features a sleek, modern design at 144 mm wide x 159 mm long, with a 7.8 mm thick gripping area, and 5.0 mm around the remaining edges. Coming in at 192 grams, the Kobo Libra H2O is among our lightest devices, so you can read comfortably for hours.
Beach and bath ready: Complete HZO Protection™
The Kobo Libra H2O is the perfect beach or bath companion. It's water-proofed with HZO Protection™, meaning it meets the requirements of IPX8 rating—waterproof for up to 60 minutes in up to two metres of water. If your vacation includes a trip to the beach, or a relaxing stay at your favourite hotel spa, you can rest easy without the worry of ruining your favourite read.
The benefits of ComfortLight PRO
Kobo Libra H2O features our ComfortLight PRO technology to reduce blue light exposure, which can negatively affect sleep by offsetting the average 24-hour circadian rhythm through the presence of red spectrum light that works to stimulate melatonin. With the Kobo Libra H2O, your story might keep you up at night, but your device won't. The automatic setting mimics the sun's natural progression, emitting the optimal brightness and hue based on the time of day. Readers can also choose their own light setting based on personal preference.
Stress-free library integration
Kobo Libra H2O readers can connect to their local public libraries right from their device with built-in, one-touch OverDrive access. Set-up is free with a library card, and through an integrated catalogue, users can search for the title they want, and depending on availability at your local library, choose to borrow from OverDrive or buy through the Kobo eBook store. OverDrive integration is available on all of Kobo's current eReaders in Canada, the US, the UK, Australia, New Zealand, Hong Kong, Denmark, Finland, Norway, Sweden and Taiwan.
Curate your web must-reads with Pocket
The Kobo Libra H2O is fully integrated with Pocket, allowing you to save web articles directly to your eReader to enjoy later. To connect to Pocket your eReader, visit the Account area of your device Settings and sign into your Pocket account.
*According to the 2019 Vacation Confidence Index, released by Allianz Global Assistance.
-30-
About Rakuten Kobo Inc.
Rakuten Kobo Inc. is the world's only dedicated digital bookseller. Owned by Tokyo-based Rakuten and headquartered in Toronto, Rakuten Kobo enables more than 38 million readers worldwide to read anytime, anywhere, and on any device. With a mission to make reading lives better for all, Rakuten Kobo connects readers to stories using thoughtful and personalized curation of eBooks and audiobooks, and the best dedicated devices and apps for reading. With the singular focus of making reading lives the best they can be, Kobo's open platform allows people to fit reading into more moments in their busy lives.
To learn more about Rakuten Kobo, visit www.kobo.com.