Take note: Rakuten Kobo introduces Kobo Elipsa Your bookstore, book and notebook combined in one eReader
With Kobo Elipsa's beyond-the-page reading experience, you can use its intuitive stylus to highlight and jot notes in eBooks and PDFs or in notebooks to capture your ideas, diagrams and to-do lists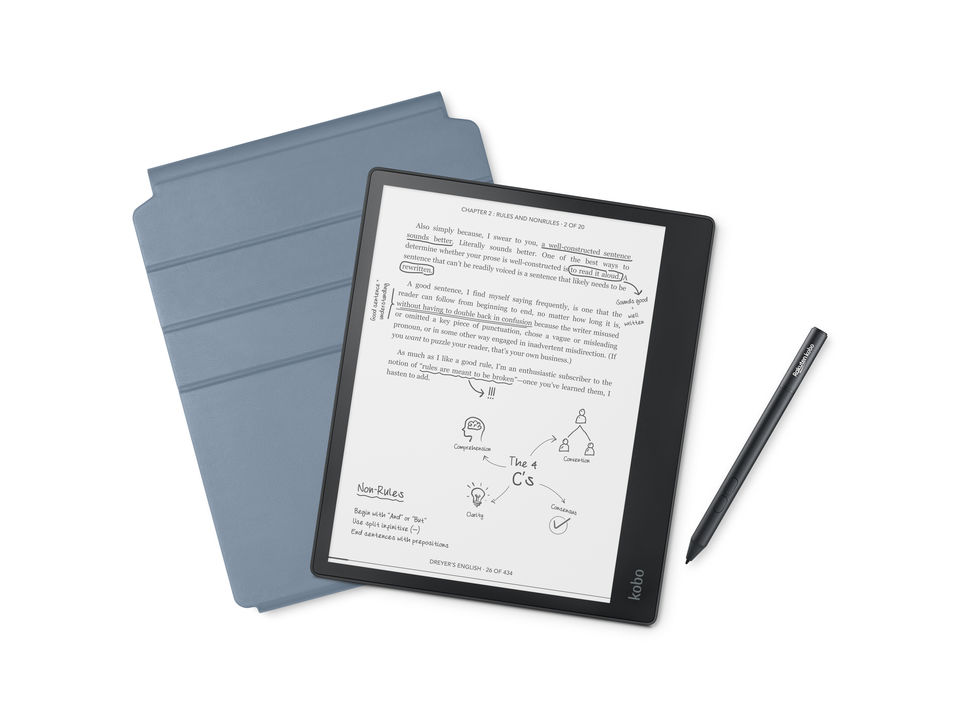 Rakuten Kobo announces Kobo Elipsa, an innovative eReader packed with features only a Kobo device can offer. Boasting new accessories, including the Kobo Stylus, Kobo Elipsa provides an unmatched digital reading and writing experience.
With Kobo Elipsa, Rakuten Kobo's expert product designers and software developers looked beyond the standard eReading experience to create a must-have writing and reading package that bridges the gap between print and eBooks, and between reading and creating. Complete with an expansive 10.3" E Ink Carta 1200 glare-free screen, ComfortLight adjustable brightness, 32 GB of storage, a stylus and versatile SleepCover, Kobo Elipsa is the next frontier of digital reading. The device is available in Midnight Blue, with the Kobo Stylus in Black and SleepCover in Slate Blue.
"When looking at what should come next for Kobo eReaders, we always go back to our customers, to the people who read everyday, to learn how we can make their reading lives better. With Kobo Elipsa, we meet the needs of people who don't just want to read a book; they want to engage with it—mark it up, highlight, write in the margins, or in a notebook of their own, because that is how they get the most out of the books, articles and documents they read," said Michael Tamblyn, CEO, Rakuten Kobo. "With this new eReader, we merged the bookstore, book and notebook together so people can capture all the ideas that spring from books and writing."
Tamblyn continued: "When looking at the eReaders currently on the market on one hand, and the eInk writing tablets on the other, we saw an opportunity to not just replace a pad of paper or words on a page, but to create a better way to find, capture and create ideas. Readers are thoughtful people, so we want to make devices that encourage thoughtfulness."
The Kobo Elipsa Pack, complete with Kobo Elipsa eReader, Kobo Stylus and Kobo Elipsa SleepCover, will retail for $499.99 CAD/$399.99 USD at www.kobo.com and select retailers. Pre-orders will be available on May 20 and the device will be available in stores and online as of June 24 in Canada, the US, the UK, Netherlands, Belgium, France, Italy, Spain, Sweden, Switzerland, Australia, New Zealand, Singapore, Taiwan, Hong Kong, Japan and Turkey.
Get to know Kobo Elipsa
Beyond-the-page eReading experience
"At Kobo, we are constantly working to understand what we can do to improve the reading experience and remove roadblocks to digital reading adoption. With Kobo Elipsa—which is the largest screen device that we have ever made—we have introduced a new capability for our eReaders, the Kobo Stylus input," said Ramesh Mantha, VP Product and Devices, Rakuten Kobo. "For avid nonfiction readers, the standard digital reading experience was lacking due to the inability to mark up the text. Kobo Elipsa solves that problem, allowing readers to mark up their eBooks and PDFs, take freeform notes as if they had a blank piece of paper in front of them, and easily import documents and export notebooks through the convenient Dropbox integration."
Intuitive Kobo Stylus experience
With Kobo Elipsa and Kobo Stylus, you can mark up, highlight and jot notes in your eBooks and PDFs* with ease, making reading and marking up nonfiction titles, essays or assignments a breeze. With pressure sensitivity mimicking a ballpoint pen, the Kobo Stylus is completely customizable - choose the pen type, shade, line size and eraser size that suits your needs - so you can write directly on the page, just like a pen on paper. Underline or circle, and easily erase or highlight, with two helpful buttons located on the side of the stylus.
Customizable notebooks and free-form notes
Kobo Elipsa's built-in notebook feature has room for all your notes, ideas and to-do lists. With the handwriting experience powered by MyScript, transform your handwriting to typed text with just a tap and clean up lists and shapes. Seamlessly navigate to the My Notebooks section to create and manage your notebooks. Include titles to keep yourself organized, and rename and delete notebooks as you see fit. You can also choose from a range of notebook backgrounds, with lined, square and blank page options. With Dropbox support, easily import documents and export your notebooks as your preferred file type to share with colleagues, classmates, or anyone else.
The ComfortLight advantage
Kobo Elipsa features our built-in ComfortLight technology, so you can easily adjust the brightness of your screen to perfectly suit any reading situation. Readers can enjoy their books from day to night with ease, and choose their own light setting based on personal preference. The touchscreen is the first to feature Carta 1200 E Ink technology for a faster display, quicker page turns and deeper contrast. It also comes with a Dark Mode option for white text on black.
Seamless library integration
Readers can easily borrow eBooks from most local public libraries right from their device with built-in one-touch OverDrive access*. Set-up is easy and free with a library card. Through the integrated catalogue, booklovers can search for the title they want, and depending on local library availability, choose to borrow from OverDrive or buy through the 24/7 Kobo eBookstore. OverDrive integration is available on all of Kobo's current eReaders in Canada, the US, the UK, Australia, New Zealand, Denmark, Finland, Norway, Sweden, Taiwan, Hong Kong and Singapore.
Stress-free reading, no matter the device
While the notes functionality is only available via Kobo Elipsa, you can extend your reading experience with the free Kobo App for your smartphone or tablet—so your library is always with you, even when your eReader isn't handy. We remember where you last bookmarked a page, so you'll never lose your place, no matter which device you choose, you can pick up where you left off in your latest read and never lose your place.
*PDFs with digital rights management or permission limitations are not compatible with markups or annotations.
*Readers can make notes in eBooks borrowed through OverDrive, but notes will not stay on the eReader after the eBook is returned to the library.
-30-
About Rakuten Kobo Inc.
Rakuten Kobo Inc. is the world's digital bookseller created by and for book lovers. Owned by Tokyo-based Rakuten Group, Inc. and headquartered in Toronto, Rakuten Kobo's 38 million worldwide users can read any time, anywhere, and on any device. With a mission to make reading lives better for all, Rakuten Kobo connects readers to stories using thoughtful and personalized curation of eBooks and audiobooks, and the best dedicated eReaders and apps for reading. With the singular focus of making reading lives the best they can be, Kobo's open platform allows people to fit reading into more moments in their busy lives.
To learn more about Rakuten Kobo, visit www.kobo.com.
Media Contact
Erin Ierullo
Senior Manager, Global Communications
1 437 333 8030