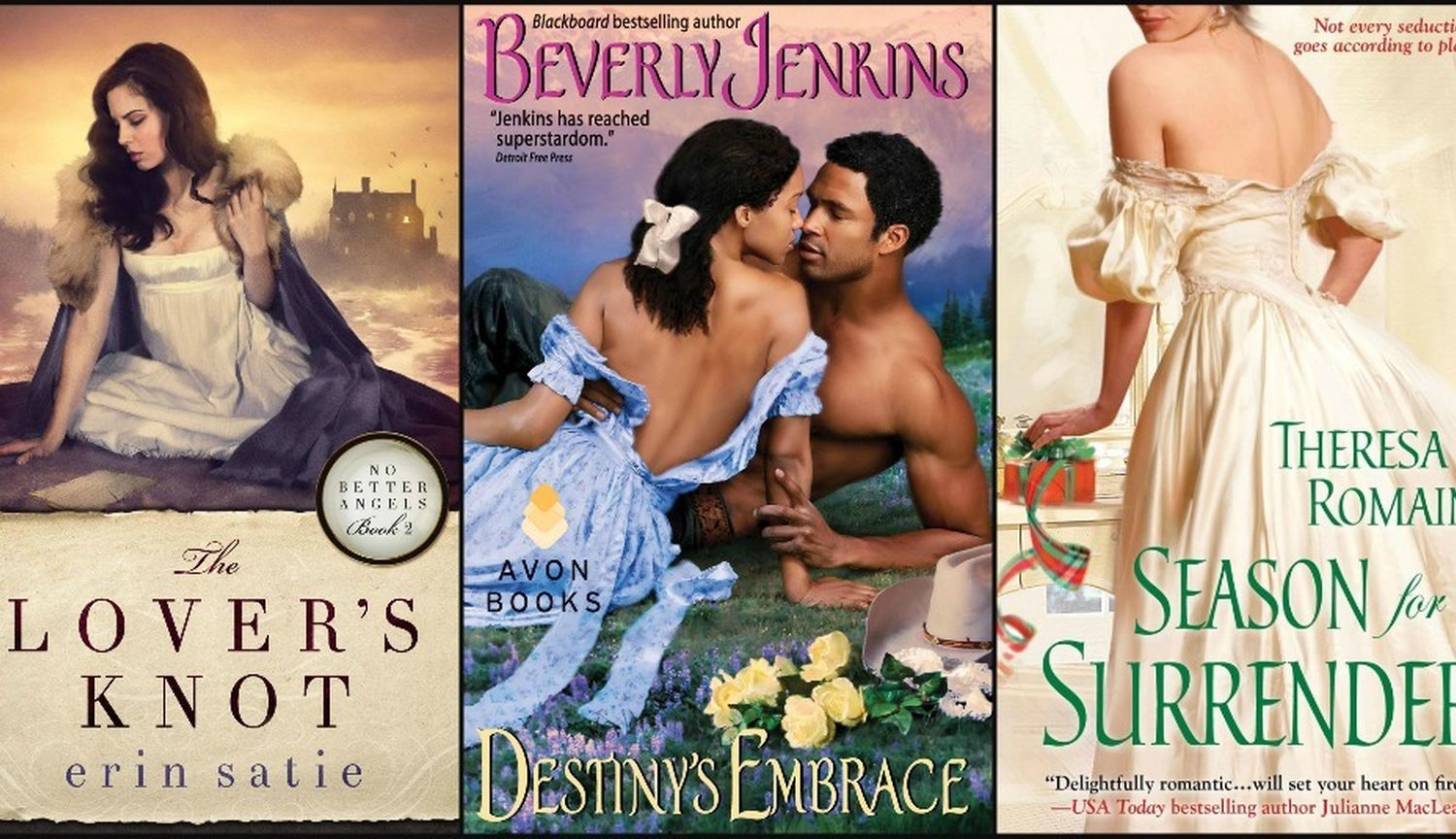 Fresh Start: Historical Romance
By Sarah Wendell from Smart Bitches, Trashy Books
The historicals I enjoy most are rich and detailed, with an elegance to the writing and to the story that is both absorbing and welcoming. The irresistible temptation of Once upon a time…. is already built into the genre's structure, and in these particular novels, history, unique professions, house parties, travel, and adventure are blended into fantastic experiences. If you've been looking for a trip into the past, here are some great options. There's a lot of romance in history, and as this collection will demonstrate, there's a lot of history in romance as well.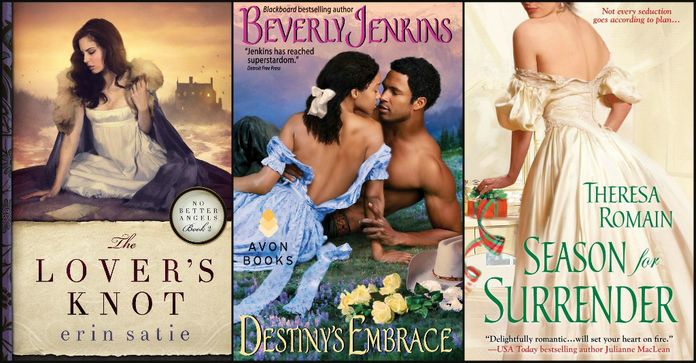 The Lover's Knot by Erin Satie
The heroine brews ink. That shouldn't be the most compelling aspect to this story, but for me, it certainly was. Sophie was once wealthy, and now works in trade, brewing ink of such quality and permanence that she's receiving commissions from very high places. When her benefactor, the Duke of Clive, dies under mysterious circumstances, her former fiance Julian inherits the title, and is very suspicious of Sophie. Her terrible memory and her permanent ink become clues and evidence against her as they try to untangle their past and figure out what happened to the previous duke. Sophie's obsession with indelibility reveals itself in everything she does, and the competence of the heroine influences the story in wonderfully compelling ways.
Destiny's Embrace by Beverly Jenkins
This is the first in Jenkins' most recent trilogy, which is set in pre-statehood California and focuses on three brothers in a blended family. This book was my favorite of the three: Mariah Cooper is a talented designer and dressmaker in Philadelphia who has lived under her mother's abusive rule for too long. She answers an ad in a newspaper seeking a housekeeper for a ranch on the other side of the country, and escapes her old life for a new one. However, Logan, the man whose house she'll be managing, didn't place the ad, and is upset with his stepmother for meddling in his life, and with Mariah for doing the same. Mariah, who is headstrong and clever, made this book for me. On her journey across the country by train, which took weeks at that time, she (and I) learned a little about the history of California, and the powerful queen for whom the state is named.
Season for Surrender by Theresa Romain
This book is a treat no matter what season it is. Lord Edgware hosts an annual holiday house party that is infamous year-round for it's debauchery and flagrant rejection of social rules. When he's maneuvered into making a bet, he has to invite one of the most bookish of spinsters at his holiday house party and keep her there for two full weeks. But he's not prepared for Louisa, who is more curious about illicit adventures and more enchanted by the depth and breadth of his library than he anticipated. The scenes in the library, where they become friends and slowly recognize one another's true selves, and the scene when they hunt down some mistletoe were some of my favorites. The artful language and intricate details in this book made me happy-sigh when I read it.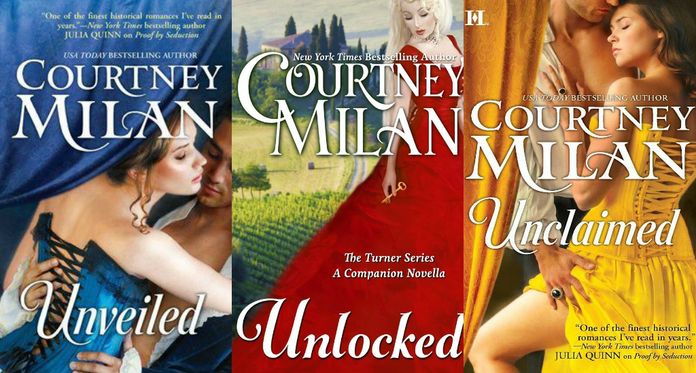 The Turner Series: Unveiled, Unlocked, Unclaimed and Unraveled, by Courtney Milan
This is a boxed set of three novels and a novella in enhanced editions that include audio, pictures, and author commentary. This series is also wonderful, and well worth treating yourself. Unlocked is a holiday novella about the aftermath of a popular boy teasing a girl that he likes, then leaving the country for years, only to find out upon his return that his teasing has socially ruined and ostracized her in his absence. I called this a "grovel-vella" in my review, as the hero has to set things right, even if it means she will still hate him forever.
Unveiled, Unclaimed and Unraveled are the three novels, and each features one of the Turner brothers, who were raised in poverty and abuse by their mentally ill mother. Unveiled is a powerful story about Ash Turner, the eldest, who successfully sued to regain a dukedom that was rightfully his. He doesn't expect the disinherited and now penniless daughter, Margaret, to be hiding in the household when he comes to claim it. Their scenes together, and the way Ash treats Margaret before and after he learns who she is were some of the best parts of the story for me.
Unclaimed features Mark Turner, who is famous for writing an influential book on chastity for men and finds himself mixed up with a courtesan, who is being blackmailed to seduce and ruin him. Anything that flips the genders on a familiar storyline is delicious to me, and this was particularly wonderful. Unraveled is the most emotional of the three, I think. Smite Turner is a magistrate and is devoted to the law, to justice and fairness, and to avoiding intimate contact with humans as much as possible due to his own painful past. All of his intentions and his ordered life are upset by a woman who appears in his courtroom in disguise.

These historicals are among my favorites, and I've re-read some of them multiple times. What sets them apart for me is the deliberate thoughtfulness of the writing. One scene can seem simple at first, but the consequences of the conversations within a moment can reappear later and shape the entire story. Plus, each book is a beautifully emotional and elegant story. I hope if you're considering historical romance, you'll give one of these a try - and if you like them, or if you don't, I hope you'll email me and tell me what you thought!
-------------------------
Sarah Wendell is author of the book Everything I Know About Love, I Learned from Romance Novels, co-author of the book, Beyond Heaving Bosoms: The Smart Bitches' Guide to Romance Novels, and co-founder of Smart Bitches Trashy Books, one of the most popular blogs examining romance fiction. The site specializes in reviewing romance novels, pondering the history and future of the genre in digital form and in print, and celebrating the romance genre and the women who read and write it.